If you haven't heard lately, there are a lot of exciting things happening at Winebrenner Theological Seminary (www.winebrenner.edu)! The pandemic has brought plenty of challenges to everyone in the higher education world, but Winebrenner has been stepping through those challenges to create a lot of incredible opportunities for the church.
Did you know that students can now attend Winebrenner for just $300 a month? This past year Winebrenner piloted a new approach to tuition which enabled students to enroll and take classes for just $300 a month. This past February, the Winebrenner Board of Trustees voted to make the $300 rate the new ongoing rate for tuition. This bold move, along with the implementation of online learning options, has made a seminary education from Winebrenner more accessible than it's ever been!
On Thursday, May 13th, Winebrenner is hosting a special online Celebration event: Boldly Believe! The event is being held from 7-8pm EDT/ 6-7pm CDT/ 5-6pm MDT/ 4-5pm PDT. You can join via Zoom link here. The password (if asked): 132240. You can find more information about the evening at https://winebrenner.edu/believe/.
The evening will feature Winebrenner students and President Brent Sleasman sharing about the amazing work God is doing through the seminary, including the initial impact of the new $300/month flat tuition rate! There will also be a special message from Winebrenner professor and award-winning author, Marlena Graves (see bio below).
Marlena Graves is an author, a PhD student, and an adjunct professor at Winebrenner Theological Seminary.
She is the author of The Way Up Is Down: Becoming Yourself by Forgetting Yourself (IVP, 2020) which won Christianity Today's 2021 Book Award of Merit in Spiritual Formation and was also recognized by Outreach magazine's "Resources of the Year 2021" as an "Also Recommended" resource of the year. Her newest book, 40 Days on Being A Nine: Enneagram Daily Reflections (IVP, 2021), came out in March 2021.
She is also the author of A Beautiful Disaster: Finding Hope in the Midst of Brokenness, winner of Hearts & Minds Books Best Book on Spiritual Formation by a First Time Author (Brazos Press, 2014), and Who's My Neighbor (ODB's The Discovery Series, 2020).
She has been a bylined writer for Christianity Today, (in)courage, womenleaders.com, Our Daily Bread, and numerous other venues. She has also been a guest on numerous podcasts. She speaks at retreats, universities, writers' conferences, and churches.
Marlena holds a Master of Divinity from Northeastern Seminary in Rochester, New York. She is pursuing her PhD in American Cultural Studies at Bowling Green State University with a focus on evangelical Christianity, race, and inequality. She lives with her husband and three daughters in the Toledo, Ohio area. You can find her at marlenagraves.com, Twitter: @Marlena Graves and Instagram @Marlena-Graves.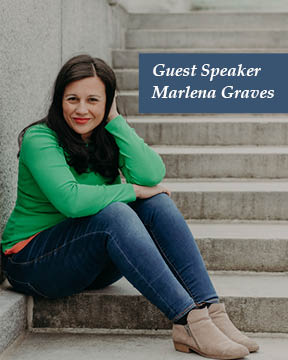 This evening will be an amazing opportunity to hear more about what God is doing through Winebrenner Seminary as it equips leaders for service in God's kingdom. I hope you'll make the time next Thursday, May 13th to join the celebration and learn more about the opportunities students now have through Winebrenner. Perhaps there's someone in your life who needs to know about the new opportunities – this would be a great way to introduce them to Winebrenner Seminary.
Christ's Peace,
Lance
---
CGGC eNews—Vol. 15, No. 19