By Aaron Lee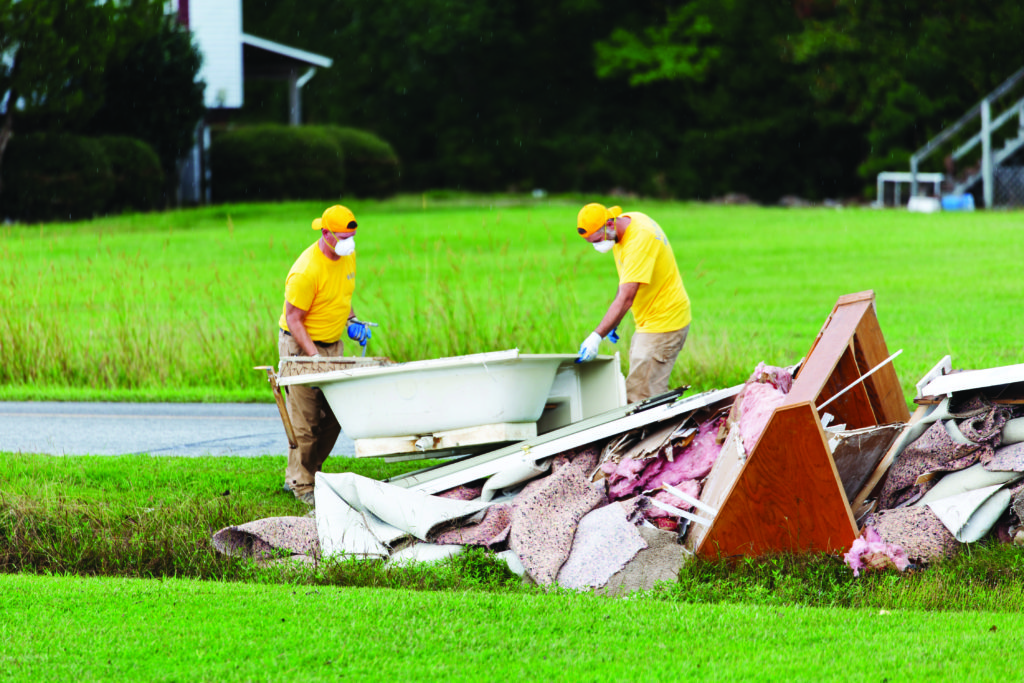 Sunday, August 27, 2017. The nation was gripped by the rising floodwaters and swift water rescues in southeast Texas as Hurricane Harvey made landfall and stood still. That afternoon, Pastor Steve Bean called the Virginia Baptist Disaster Response Operations Center hotline, requesting assistance in his church's community. Why would a Texas pastor call an organization based on the East Coast? For that perspective, we need to go back a decade to 2008.

When Hurricane Ike made landfall in Texas in September 2008, Pastor Steve walked outside into the parking lot of First Baptist Church Liberty and prayed, "God, help us turn this into something good." Soon after, volunteers from the Baptist General Association of Virginia (BGAV) made the long haul to Liberty, Texas. The church welcomed the teams of volunteers, and over the course of three weeks, volunteers provided more than 50,000 hot meals in the region. So when Hurricane Harvey started dropping 53 inches of rain, Pastor Steve knew he should call his friends. Within days, leaders from Virginia were in Texas. And for the next year, 369 volunteers from 13 states served 21,273 hours, cleaning and rebuilding 216 homes from the flood damage. For the community of Liberty, Pastor Steve said, "It's been a life changer, a church changer, a community changer – it's just been a game-changer. And we thank God… for the opportunity to love Liberty."

Since 1969, volunteers from BGAV churches have served after disasters, including Hurricanes Hugo, Katrina, Sandy, Maria, and Florence, as well as 9/11 and countless community disasters in 18 states and Puerto Rico. Just as the BGAV exists as a missionary movement of local churches, we believe that our call in disaster response is to mobilizing volunteers from one local church to support a local church in the affected area.

At the heart of every response has been the partners. In an upstate New York blizzard, it was the local community college. In Maryland during civil unrest, it was the National Guard. In North Carolina after Hurricane Florence last fall, it's been a local business owner, inspired by his faith in Jesus to use the platform of his business to support the response. And in every response, a local church is there to carry the mission and message of the resurrected Christ long after we have returned home.
Why Partners Strengthen Us All
Preparing to respond to disasters starts with strong partnerships and robust planning. Waiting until disaster strikes is too late for forming partnerships. After Hurricane Harvey, we connected with Missions On Wheels (MoW), a Texas-based organization providing mobile showers, laundry, and bunk space for volunteer groups. We needed extra bunk space in Liberty, and MoW had a trailer we could use.
Fast forward to the following year. When MoW was asked to provide showers in North Carolina after Florence, we had trailers a few hours away and helped them support their partners. For three months, our showers were utilized by a veterans response organization, extending the impact of our resources to help North Carolina respond.
After both Harvey and Florence, we have opened our doors for volunteers from local organizations and multiple denominations to join us. And those volunteers have fit seamlessly into our response.
What makes an effective Kingdom partnership?
The most impactful Kingdom partnerships start with humility.
We believe the decision to follow Jesus has been the most important decision of our lives. Yet we have a shared responsibility with our partners and hosts to share Jesus in their community. Sometimes, we only plant a seed. Other times, we are present to invite someone into the fellowship of believers. Regardless of our role, our local host church will be where this person sets down roots and grows in his or her faith journey.

To be effective partners, we must be honest about what we bring to the relationship. We also need to be humble enough to recognize we cannot bring everything. The best partners share these responsibilities, offering support in their own way, and working together to see the Kingdom of Heaven come to life here on Earth.
As our volunteers continue to serve in North Carolina with the long-term rebuilding of homes damaged after Hurricane Florence, our partners include three local churches, countless local government officials, businesses, and denominational partners.
Leaning On Partners for Impact
At every turn, a partner sits in front of us. We are grateful CGGC is one of these valued partners. Holding the belief that partners make us stronger, this will continue to be a core component of our ministry of disaster response. We truly believe the movement of local churches to support local churches affected by disaster is our call. And when we return home, we hope our continued relationships with partners will inspire us to find partners every day, in every part of our mission, to do infinitely more than we could ask or imagine.
With our partners, God multiplies our efforts.
MORE RESOURCES
Pastor Steve on YouTube: https://www.youtube.com/watch?v=cmQyJcBrPhY

Complete Online Training with VBDR: my.BGAVDR.org
CLICK for info. about joining the new CGGC Disaster Response Team!