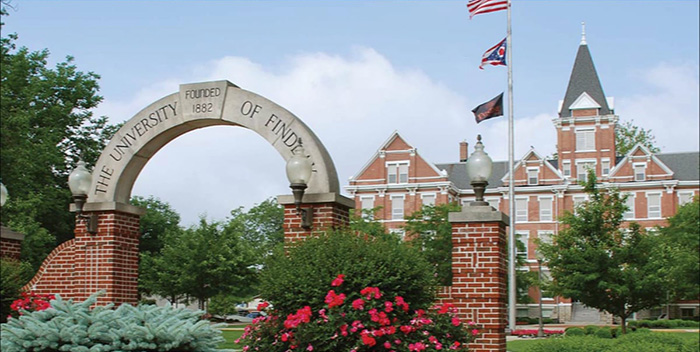 There are some good things happening at the University of Findlay these days! Some of you may have come across the recent article in Forbes that highlighted the University of Findlay and their increase in enrollment this past fall when most universities were experiencing enrollment declines. Findlay was one of two small colleges cited in a December 14, 2020 article (Forbes.com) for an increase of first-time freshmen enrollment by 15% during a time when private non-profit colleges saw a 8.5% decline in freshmen enrollment nationwide.
Earlier this year, the University of Findlay Board of Trustees announced that Dr. Katherine Fell will continue to serve as president of the University for at least another three years. The contract extension runs through June 2024, with a 3-year option beyond that. "This is Dr. Fell's 11th year as the President of the University of Findlay, and we are extremely excited that we will have the benefit of her leadership for at least another three years!" stated Chris Ostrander, president of the University's Board of Trustees. "Dr. Fell has been a tremendous leader not only for the University, but also within the community. She has built a vibrant culture for our students, the faculty, and the staff; and we are very pleased to have reached this extension with her."
The University also announced the establishment of a collaborative partnership with Blanchard Valley Health System (BVHS). This collaborative partnership will help the two entities work together to ensure that the region continues to enjoy excellence in healthcare from well-prepared professionals. "We are very proud to be partnering with BVHS to strengthen the healthcare opportunities for individuals in our community and for our students," said Dr. Katherine Fell, University of Findlay president. "As the region's leader in high-quality healthcare education with 29 different healthcare-related degrees and more than 400 students graduating each year in healthcare-related fields, this partnership will enable our students and graduates to gain the experience they need to serve our community well for many years into the future."
In addition to these great developments, I'm happy to report that Campus Ministry at the University continues to thrive and expand. Pastor Matt Ginter, director of Christian ministries continues to give good leadership to the various ministry efforts on campus. This past year, Josiah Parkhurst was brought on as the assistant director of Christian ministries thanks to the generosity of the Great Lakes Conference, The Foundation of the Great Lakes Conference, College First Church of God, the CGGC and other generous donors from across the church body.
Last week, I had the opportunity to speak at Revive, the weekly student-led worship service held on campus every Thursday night throughout the school year. It's incredibly encouraging to see two hundred or more young college students gathered for worship each week. It's even more encouraging to understand that this is just one aspect of what's happening through the work of campus ministries. Several hundred students are engaged in weekly bible studies and small groups on campus as well one-on-one mentoring relationships with other students or community members. At our recent CGGC Ad Council meeting in March, members of the council had the opportunity to meet with student leaders from campus and hear about their experience on campus and their hopes for the future of the church.
In July, the University will host The Well (https://www.findlay.edu/academics/well) to help high school students explore the intersection of their identity in Christ and their vocational calling. I believe there are still a few open spots available – this would be a great investment in the life of a young person in your circle of influence (there is no cost to participate outside of one's travel to campus).
I'm grateful for the good work being done through the University of Findlay and for the way in which God is at work on its campus. You can learn more about the University at www.findlay.edu.
Christ's Peace,
Lance
p.s. Just an update to our request for prayer last week. The caretaker who was injured in an attack at the Bangladesh Church of God Mission has been released from the hospital and is recovering at home. Thank you for your prayers on his behalf. Continue to pray for the leaders of the Mission as they navigate the difficult challenges of COVID-19 and opposition from the local community. We are grateful for your faithful prayers on their behalf.
---
CGGC eNews—Vol. 15, No. 16