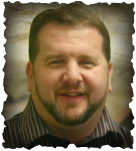 I've spent several weeks exploring the idea of where we are right now in the CGGC, particularly as we anticipate looking forward into the future and discerning where the Lord wants us to go and what He wants us to do as His people. Some of what I share will be from a broader view – where the CGGC reflects what's going on across the larger evangelical church in North America. At other times, the sense will be much more specific to the CGGC and where we find ourselves in this critical moment.
So earlier this week I needed to renew my driver's license. It was a remarkably pleasant experience at our local BMV, everything was moving right along, better than I had expected until I struggled to pass the eye exam WITH my glasses! I didn't see that coming (pun intended). Needless to say, I've scheduled an appointment with the eye doctor and hope to have new glasses soon. I didn't know that I wasn't seeing correctly until the vision test showed me that my vision wasn't nearly as clear as I had previously assumed.
I think one of our greatest challenges today is the challenge to see things correctly or accurately. We are living in times of great upheaval and change. It's only when we see accurately that we can respond in appropriate and faithful ways to the challenges that we face as followers of Jesus.
For instance, there are some who see the certain extinction of the church as we know it. I like to call this the "chicken little" club because the sky is always falling. The church is on the verge of extinction or the last Christian witness is about to be extinguished. I hear these kind of predictions from time to time. Sometimes such statements are a part of an advertisement offering a solution to the impending doom. Sometimes such sentiments are more of a reaction against the trends and forces we see at work in our world.
Here's the problem: while people may be "seeing" this impending doom, it's just not accurate. Jesus said that He would build His church and that the gates of Hell would not prevail! The church is going to be just fine. Jesus has this under control. Your local congregation may or may not be here in five years, but the church of Jesus Christ is going to continue to accomplish the work He's called them to do here on earth.
On the opposite extreme are those offer that there's nothing new under the sun and that everything's really fine. When faced with rising numbers of young adults who have no desire to connect with any formal religion or faith, my friends in this camp often respond with comments like "my generation went through this too. But then we got married, had kids, bought mini vans and went back to church. Don't worry, they'll eventually come back." Typically my friends in this camp often resolve to just keep being faithful, keep preaching the Word and stay the course while hoping they'll come if we build it. If we're faithful, it will all work out.
Here's the problem with this mentality. While your faithfulness is honorable and your commitment to the Word is necessary, your inability to engage a lost and dying world with the Good News of Jesus isn't a badge of your commitment to Jesus. If your local congregation hasn't reached someone far from God in the past year or two, if you haven't seen someone come to new life in Jesus, perhaps everything isn't as good as it seems. Perhaps there are things that need to change in the way you live out your faith in front of your neighbors, friends and fellow community members?
Neither of these views help us respond faithfully to the moment we're in. One tempts us to frivolously change everything in a sense of desperation and a false sense that it all depends upon our work or efforts. The other tempts us to keep on doing what we've always done with an equally false sense that if God wanted something more He's show up and do it Himself. Neither one of these views is seeing our current moment accurately.
We need a generation of leaders like the sons of Issachar who both understood the times and knew what to do. They were able to accurately see what was going on and respond in appropriate ways.
May God improve our vision in order that we begin to see clearly and accurately!
Christ's Peace,
Lance
---
CGGC eNews—Vol. 13, No. 20