This story was posted by Dan Forrest about his unexpected encounter with Bowmansdale Church of God.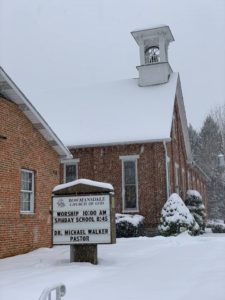 Can I tell you about my day today? I flew to Harrisburg PA, rented a car, and tried to drive to Messiah College in a snow storm. One mile from the school, I couldn't make it up a snowy hill road, got sideways, and had to back all the way back down. With hills on all sides, there was nowhere to safely go, so I looked for a parking lot where I could park my rental car and call my hosts to come get me. The first parking lot I found was at a church- Bowmansdale Church of God. I parked alongside the church, called my hosts to tell them where I was, then went to the church door to ask if I could leave my rental car there overnight (roads should be clearer tomorrow). Inside I found 100 or more people just finishing a memorial service for a church member. Over the next hour, no one from the college could get to me with a four wheel drive vehicle, and the campus closed due to weather…so the church members invited me to join them for their luncheon. So I ended up being a guest in a roomful of strangers at a church I'd never seen before, memorializing a man I'd never met, and even being present for his committal service (which was held inside the church because the hearse carrying his coffin got stuck on a hill as well and couldn't get to the church!). I ended up having a beautiful lunch with total strangers (and shared some pretty funny moments too), while various people tried to find ways to get me over to the college. In the end, a kind couple from the church took me to the college in their four-wheel drive vehicle (and offered their help tomorrow if I needed a ride to get back to my car).
Amidst all the awkwardness, the humor, and the fun that I had meeting new people, the thing that stands out to me the most is the hospitality of these people to a total stranger. These people were Good Samaritans to a man in need that they found on their road, so to speak. To them, I wasn't a "famous composer"; I was a *nobody*- a total stranger coming in off the street, in need of help. But their doors were open, they weren't suspicious of me, they welcomed me at their table, they fed me, helped me, and met my needs. Isn't this, after all, what Christ-likeness looks like? Welcoming the stranger in need, regardless of origin, situation, or any differences of race, or social or economic status? "I was a stranger, and you took me in" took on a whole new meaning today, as, for once, I was the person in need.
So yes, my day was crazy, awkward, hilarious, utterly enjoyable, and yet also deeply ironic, profoundly beautiful…and, still, tonight, as I sit here, thought-provoking.