I wanted to take some time this week share about an exciting new opportunity for young people in grades 7th thru 12th that's coming up in early 2021. Earlier this week I spent some time talking with Pastor Ty Watson, Youth & Family pastor at the Celina First Church of God in Celina, OH. Tyler is one of the initiators and visionaries behind the GLC Holiday Youth Convention (http://www.glcyouth.com).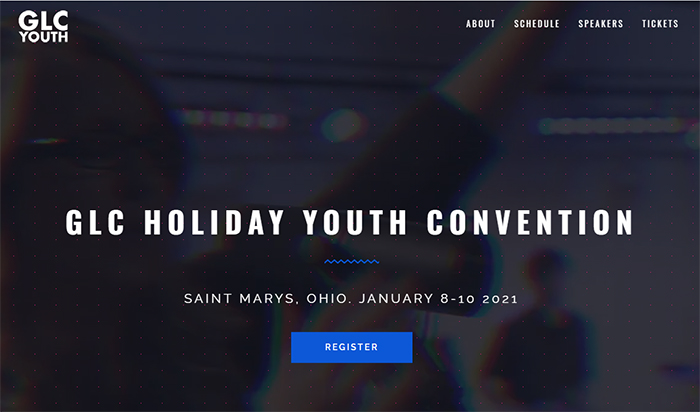 On the weekend of January 8-10, 2021, the GLC Holiday Youth Convention will take place at the Lighthouse Camp & Retreat Center near St. Marys, OH (http://www.lighthousecamp.net). This is a special weekend designed for youth grades 7th through 12th and their youth leaders and youth workers. The theme for the weekend is "Not Alone" and aims to help remind the participants that Christ is always with us, even amid such difficult and isolating times like a global pandemic.
Ty saw a need and has spearheaded a team committed to investing in youth and youth leaders to empower them to live the life that Christ is calling them to live. Ty observed that lots of young people are impacted by summer camping ministries but often return home feeling isolated and disconnected. The GLC Holiday Youth Convention will give young people to connect with a larger circle of their peers who are committed to pursuing Jesus and the plans that He has for them. It will encourage their walk with Christ and connect them to others who are committed to doing the same.
There will be special sessions designed for the youth and special sessions and training for the youth leaders and youth workers as well. The weekend will include general sessions with worship led by Dream On (https://dreamon.world/), breakout sessions, and lots of opportunities for fun and connection. The event will start on Friday evening, January 8th and wrap up Sunday afternoon, January the 10th.  Registration opens on November the 1st at the website http://www.glcyouth.com.  Early registration is $130 and good through November 30, 2020. Registration includes food and lodging for the conference. After December 1, the registration rate goes up to $150.00. This is open beyond just our Great Lakes Conference churches! I know that distance may be a challenge, but some of you in other regions may want to take advantage of this great opportunity.
This is a great opportunity to invest in your young people! Space is limited, so if you're interested in sending some youth and their leaders, I'd encourage you to reach out to Ty at TylerWatson365@outlook.com or visit http://www.glcyouth.com for more information.
I know that 2020 has been a difficult experience for all of us. A lot of our young people have missed out on camps and a host of other special events in their lives. The GLC Holiday Youth Convention will be a great encouragement to the young people in your church and a great investment in their discipleship too.
Christ's Peace,
Lance
---
CGGC eNews—Vol. 14, No. 44