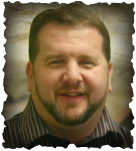 I've spent several weeks exploring the idea of where we are right now in the CGGC, particularly as we anticipate looking forward into the future and discerning where the Lord wants us to go and what He wants us to do as His people. Some of what I share will be from a broader view – where the CGGC reflects what's going on across the larger evangelical church in North America. At other times, the sense will be much more specific to the CGGC and where we find ourselves in this critical moment.
This morning I bumped into a friend at the donut shop. Believe it or not, it's not my usual spot at 6:30 a.m. (if I'm honest, I wish it was my normal spot at 6:30 a.m. but the doctor has discouraged me from such activities and I try to follow his advice most of the time). I'm standing in line at Fort Findlay Donuts while wearing gym attire and I'm noticeably sweaty and gross. I'm sure it was quite a sight. It didn't strike me until afterwards how strange it must have looked: "Here's a man who's obviously come from some form of exercise and he's buying two dozen donuts, he doesn't get this health thing." My friend even asked me "what are you doing?" I told her that I always like to follow up a good workout with two dozen donuts to balance things out. For the record, the donuts were for my daughter Molly to take to her class to help celebrate her 10th birthday. Full disclosure: I did enjoy one of the warm, freshly made glazed donuts and it was delicious (Brenda wouldn't let me have more).
So why do I share this profoundly intimate detail of my morning? As I've thought about where we are right now in the CGGC, I think there are times in which we probably look like an overweight, middle-aged man wearing gym clothes, drenched in the sweat and stench of exercise, standing in line at the donut shop. Things don't always make sense. We can be confusing. Sometimes it's because our walk doesn't match our talk and at other times it may be that our "walking" is inconsistent at best. We send mixed messages about what we believe and practice.
There are times when what we put on paper looks better than what we actually live out. There are lots of areas where we could explore this today, but I want to focus on women serving in ministry.
The CGGC has a long and rich history of women serving in ministry. Just a few years into our existence as a movement, you'll find women being recognized and credentialed to serve in ministry. Martha Jane Beecher was licensed by the West Pennsylvania Eldership in 1858. By 1900 there were at least 34 women licensed to serve in twelve elderships across our body. In addition, our early work in world missions was launched almost entirely due to the efforts of women answering the call of God to serve in foreign lands. We are not newcomers to the idea of women serving in ministry.
So on one hand, we have this rich legacy of women serving in ministry. Some would even say that it's a part of our DNA or one of the unique qualities of the CGGC. We've put it on paper: we believe that God calls both men and women to serve in ministry.
But… our lived experience often tells a different story. I'm grieved by the stories some of my sisters have shared about their experience as female pastors in the CGGC. Their experience hasn't been easy, their road has often been long and arduous and I think it's fair to say that they haven't always felt like the CGGC welcomed them nor supported their call to serve in ministry.
"We're not open to a woman serving as pastor here." "I don't think we're ready for a woman in leadership." I've heard these comments more times than I care to remember. It's always disheartening and confusing for me. How can a denomination that celebrates its rich history of recognizing both men and women being called by God to serve in ministry still struggle so to recognize and embrace the call that God has placed upon the lives of our sisters?
I'm so grateful for the women God used in my own life and ministry: women who invested in me, encouraged me and gave me opportunities to serve and learn. I'm so grateful for the women I've had the privilege to serve alongside with over the years. I'm a better servant of Christ because of their example, influence, friendship and their willingness to co-labor with me. I'm so excited about the next generation of young women that the Lord is raising up in the CGGC: they are among some of our best and brightest and the CGGC will be better off because of their giftedness and their willingness to endure and patiently walk with us as we learn to better live out what we've put onto paper.
I'm grateful for our rich history, but I long for a day when what's written on the paper will be more obvious in our practice.
Christ's Peace,
Lance
---
CGGC eNews—Vol. 13, No. 15