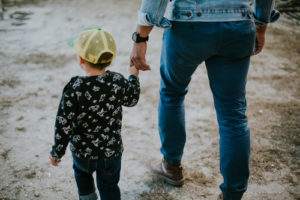 I was walking toward town beside my step-father. He seemed like a giant to me. His gait was long and I was only in first grade. As he held my hand, I felt like I was running just trying to keep up. That's because I was running trying to keep up. At times, I would go a bit too fast and surge ahead and then slow my pace and find myself a half-step behind. I felt like a horizontal yoyo, never in sync with his strides. I then switched tactics and decided if I took really big steps it would help me keep in step. All it really achieved was embarrassment to my Dad as he now had what undoubtedly looked like a miniature, crouching Groucho Marks trying to keep pace beside him. He stopped. Next came the question, "What are you doing"? I was a child and I simply said "taking big steps". He said, "stop it".
To his credit, he perceived what was needed and slowed his steps. I was able to walk with him – without looking too ridiculous.
God wants us to walk with him. Immediately after the fall in Eden's garden, it is implied that God walking with Adam was a common thing. As God approached in the garden, Adam and Eve knew that sound and in shame they hid. Their absence was unusual because God calls out "Where are you?"(Gen 3:8). Enoch also walked with God. This was obviously pleasing to the Lord (Gen. 5:24; Heb. 11:5). His close companionship with God meant he did not taste death. In Micah 6:8, walking humbly with God is something that is required of us.
So I try. I try to walk like Jesus. I desperately try to match his gait and pace, but I can't because he is so much more than me. At this point I want to make clear what I am not saying. I am not saying that looking and acting like Jesus is not important. They are. I am saying I can't do it on my own or learn by simple method.
I was not tied to my step-father by a stitch of DNA, yet by my teen years people would comment on how much I looked and acted like him. I stood like him, and, yes, I walked like him. I didn't intentionally mimic him. I looked like him because we lived life together over an extended period of time. Because of that, his traits and attributes infused themselves into my being.
At times in the past, I have found Matthew 7:21-23 troubling. Jesus declares that not everyone who says he is Lord will enter heaven's Kingdom. The people in this passage have done some pretty incredible spiritual stuff. The problem is, they had not developed the relationship that allowed them to discern the will of God the Father in their actions. God's intention and character were foreign to them and as a result they were branded as strangers and their works declared lawless.
Lord God, too often we try to mimic you without allowing our hearts to be transformed. May we indeed reach wide into the world, becoming the hands and feet of Jesus. However, first may our actions be saturated with your characteristics and aligned with your will as we spend time with you. Then as we walk amongst others, may it be obvious to them that you are our Father. And when all is done, may we know you and be known by you.