Today we follow up last week's post with part 2 of our interview with Chris Backert, National Director of Fresh Expressions US. You can find part 1 here: https://blog.cggc.org/enews/an-interview-with-chris-backert-of-fresh-expressions-u-s-part-1-of-2/. Chris will give information about the upcoming Future Church Summit and offer some perceptive insights into what the Lord might be up to through His post-COVID church. I'm grateful for his work and his willingness to spend some time with us.
Christ's Peace,
Lance
---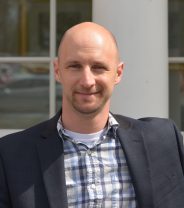 What are some of the stories you've seen emerge from the work of Fresh Expressions?
A couple of general types of stories have emerged as major themes. First, there are countless congregations, many of them multiple decades old, who have found renewal through engaging in mission by launching new expressions while continuing what they've always done. Established congregations are finding new life through launching fresh expressions. The second theme has been the mobilizing of the everyday people of God (some might call them lay people). Ordinary followers of Jesus are launching out and trying new efforts to reach others who don't know Jesus. Sometimes they're trying and failing and learning by trial and error, but they're experimenting and discovering new ways to reach people who likely won't be reached by the present expression of congregational life.
Here's a recent favorite story about an everyday woman of God who lives in Huntsville, Alabama. Her husband passed away after their children were raised and she made the intentional decision to sell their home and move into a high-rise apartment building in the urban district of the city. She started offering cooking classes to her neighbors. She was able to build relationships with these new neighbors and become the presence of Christ to these folks because she picked up and went to them and began to love, serve and connect with them. There have been multiple stories like this dear sister's story.
Tell us a little about the Future Church Summit coming up in February.
We all understand how disruptive this past year has been. As we've talked with pastors and church leaders about how we can continue to serve them in helpful ways through this time of upheaval, we had more than a few propose a specific way which we could help them. Several pastors mentioned that they offer an annual leadership retreat sometime in January or February to help the church look forward to the year ahead and yet this past year had really left them at a loss of what to do. We got comments such as "I don't know what to do with the planning retreat this year" or "How do we talk about planning for the future now?" They asked us to create a virtual retreat that would help them and their local leaders with the key conversations that congregations should be having right now at this pivotal moment.
The Future Church Summit (https://freshexpressionsus.org/futurechurchsummit) was our response to those who were asking for help to figure out the critical question of what should ministry look like as we emerge from COVID-19? Congregations can pull their leadership together in-person for the retreat or you can all join us virtually. It's held on Friday evening and Saturday morning and afternoon. We've created seven team conversations with guided exercises. There are six presentations from leaders like Shannon Kiser, Tod Bolsinger, Len Sweet and others to help prepare your team for the group exercises and discussions. You can bring as many of your leaders as you want, all for one price. Churches from the CGGC can get a 10% discount by utilizing the special discount code: CGGC10.
What do you hope congregations will walk away with because of the Summit?
We've designed this retreat to help congregations look to the future with a sense of hopeful imagination. Our hope would be that each participating congregation would identify the key steps that they need to take in 3-4 key areas to empower them to become a vital congregation post-COVID.
What are you hearing from the Lord during this season, particularly about life after the pandemic?
I was in New England past fall doing work with some Assembly of God congregations. I had an afternoon of free time and ended up visiting a botanical garden because it was one of the few outside options since most of the indoor options were still closed. While touring the garden I came across a tree that I had never heard of before: The Tree of 40 Fruit. This single tree bears forty different types of fruit: peaches, plums, cherries, almonds and many others and was created through a process of grafting.
The Lord really impressed upon me the idea that this Tree of 40 Fruit is a picture of the future of the church here in North America. Up to this point we've been experts in growing one kind of fruit. The future is requiring us to learn how to grow several different kinds of fruit, all off the same tree, all off the same church.
The future will require worship gatherings, fresh expressions, dinner church and other types of expressions we probably couldn't even imagine yet today. Different kinds of fruit all growing out of the same tree. It's going to change the ways in which we think about ministry, it will change some of the ways in which pastor-types function, and it will require all of us to develop new skills.
The church of the future that's growing will be the church that's able to reach into the manifold groups of its community in meaningful and relevant ways.
I'd also like to offer a word of encouragement to church leaders and pastors: you're tired and that's understandable as it's been a tremendously difficult year. You need a time for rest and you need to take a break. We're entering a very pivotal and different era. The shifts we're experiencing now are like the shifts that took place when the advent of the printing press changed the world and helped expediate the Renaissance and the Reformation. COVID-19 has forced us fully into the digital era with similar implications and the Lord has us here for such a time as this!
---
CGGC eNews—Vol. 15, No. 6