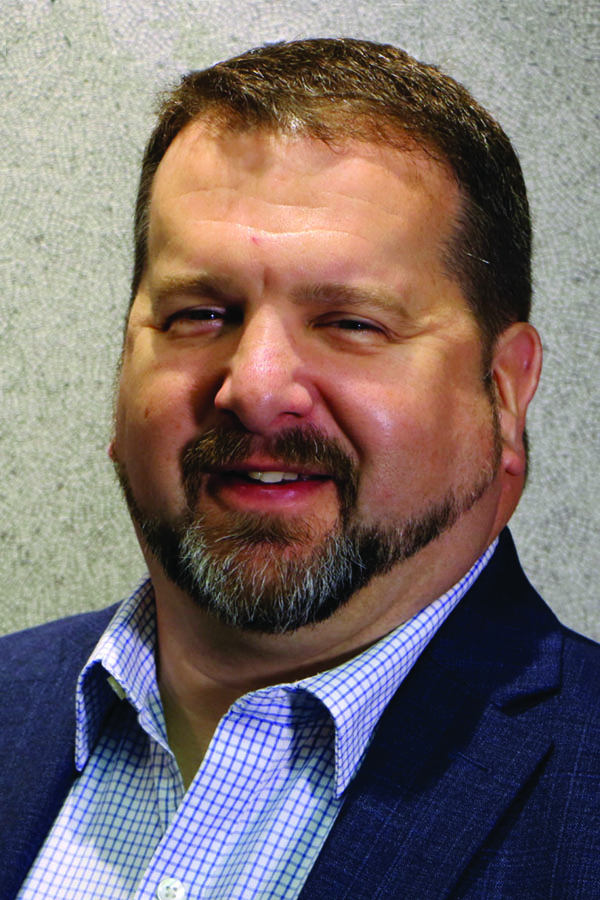 If you didn't know it by now, we're living in a VUCA world. VUCA stands for Volatility, Uncertainty, Complexity and Ambiguity. The concept was developed in the U.S. War College several years ago and is used increasingly today to help explain the context of our present world and its challenges. These are certainly volatile and uncertain times. This is uncharted territory.
I live in Findlay, OH. As of Thursday afternoon, there are five reported cases of Coronavirus in the State of Ohio (with a total of nearly 1,400 cases nationwide). Earlier this week the Governor of Ohio declared a state of emergency and recommended/required that all universities and colleges within the state move to remote learning. The University of Findlay has announced that it is transitioning to remote learning until April 14, 2020 (you can read more about that at www.findlay.edu). The Ohio High School Athletic Association (OHSAA) announced that all the High School athletic tournaments will be postponed indefinitely. This afternoon (Thursday), the Governor announced a ban on mass gatherings of groups of 100 people or more (with several exceptions, including religious services). It also looks like public and private schools in Ohio will be shutting down for several weeks beginning next week. The National Basketball Association (NBA) has suspended its season and the NCAA has cancelled the March Madness basketball tournaments.
Across our nation there is wide range of responses: fear and panic to cynicism and suspicion. Wall Street is in a tumultuous free fall, our government is considering several options for economic stimulus, and apparently toilet paper is selling at a premium and hard to find. There have been multiple times this week where I've muttered to myself "the world has just gone mad."
Most of us are familiar with Psalm 46: 1-7
God is our refuge and strength, an ever-present help in trouble.
Therefore we will not fear, though the earth give way
and the mountains fall into the heart of the sea,
though its waters roar and foam
and the mountains quake with their surging.
There is a river whose streams make glad the city of God,
the holy place where the Most High dwells.
God is within her, she will not fall; God will help her at break of day.
Nations are in uproar, kingdoms fall;
he lifts his voice, the earth melts.
The Lord Almighty is with us;
the God of Jacob is our fortress.
It's accurate to say that the nations are in uproar! Many are fearful and wondering if nations and kingdoms are going to collapse amid this uproar. As followers of Jesus, we know that God is our refuge and our strength!
How do we respond as followers of Jesus Christ?
Don't live in fear and panic.
Many are responding in fear and panic. Many are casting blame and politicizing this present crisis. We know that media feeds this sense of fear and panic because it helps sell advertising. God is our refuge and our strength! We do not need to respond in fear and panic right now. Some of you probably need to take a fast from social media for a little while.
Use wisdom.
Wash your hands. If you're sick, stay home. Use good sneeze and cough hygiene. Seek out wise medical advice and guidance. I've talked to many of our church leaders who are working with local health officials to plan for the weeks ahead. Now is the time to live as wisely as we can.
Love your neighbor
We live in a culture that's already plagued by loneliness and isolation. The measures taking place right now will just increase that sense of isolation and loneliness. Jesus calls us to love our neighbor as we love ourselves. Now is one of the greatest opportunities for the people of God to live out our faith with real hope and authentic care. Reach out to your neighbors. I'm already hearing about churches exploring how to help feed vulnerable children who won't have the benefit of hot school lunches for several weeks. Now is the time to put our faith into action. How can you put God's love on display in the days and weeks to come? How can you demonstrate and proclaim the love of Jesus Christ in the next few days?
Do we cancel services or not?
I'm not the Pope, so I don't issue edicts. It's you and your local leadership's decision to make. Again, use wisdom here. Some of our congregations are filled with folks who are highly susceptible to this virus. It's probably a good time to avoid handshakes and hugs. Talk with your local health professionals to get good guidance on how to navigate these times. Some of you will see the need to cancel or alter your services, some of you may not. Let's aim at loving God and loving our neighbors well during this tumultuous time.
I have a lot of hope in this moment. Some of us are going to find new ways to gather and engage in our faith over the next few weeks. What if God would use this moment to launch His people to mobilize to be the church rather than just go to church? What a tremendous opportunity to step up and live out our faith in a time when our world is in chaos. God's church is a people, not a building and certainly not a worship service. Be the church right now!
Here are a couple of resources that I want to highlight.
Church Law & Tax teamed with colleagues throughout Christianity Today to produce a free, downloadable resource, A Concise Coronavirus Guide for Churches
Our Friends at Fresh Expressions (https://freshexpressionsus.org/) are offering a FREE webinar: How Your Church Can Be Faithful During Coronavirus (click HERE for more information) on Wednesday, March 18th at 1:30 p.m. (EDT). Click the image below to register.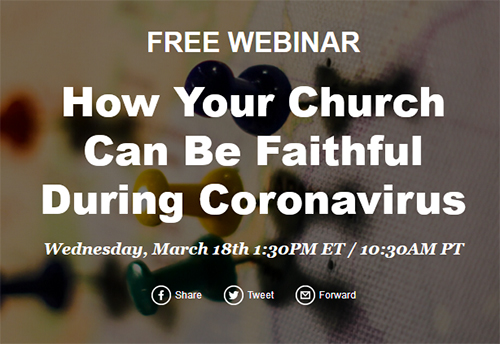 The nations may be in chaos, but we need not be afraid. We know that Jesus our King is on the throne and He is calling His people to follow Him faithfully in this moment.
I don't know where this quote originated, but my former professor, Dr. Paul Lim, brought this to my attention earlier today. I believe it's a spot-on summary of what our mindset and posture should be in this uncertain time:
Wash Your Hands as if your life depended on it….
Wash Others' Feet as if their lives depended on it…
May we live this out well in the days and weeks to come my dear brothers and sisters.
Let's love and serve faithfully. Let's trust Jesus our refuge and strength!
Christ's Peace,
Lance
---
CGGC eNews—Vol. 14, No. 11