I've got some good news to share today. Earlier this year, Brandon Kelly, who had been serving in a dual role as director of strategy and director of developing leaders, announced that he would be transitioning to take the lead pastor position at College First Church of God. This meant we had an important role to fill upon his departure.
In early summer we launched a search process for the next person who might serve as the director of strategy and director of developing leaders. We had a great search committee and we ended up with a very strong pool of applicants. I was so encouraged by the caliber of individuals who expressed in interest in this opening, it made the discernment process more arduous and stimulating.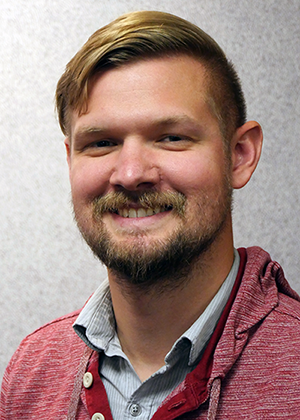 Earlier this month, the Administrative Council confirmed the hiring of Trent Grable as director of strategy and director of developing leaders. Trent hails from Columbia City, IN where he grew up at the Oak Grove Church of God. He and his wife Kayla and their four children attend Oak Grove.
Trent currently serves as an associate professor of business and director of the center for creative collaboration at Indiana Institute of Technology in Fort Wayne, IN. He's also the founder of SagaNexus, an analytics company focused on new venture, innovation and decision analytics. He holds a bachelor's degree from Indiana Wesleyan University and an MBA from the University of Saint Francis. His current doctoral studies focus explores the role of dynamic capacities in innovation leadership on organizational innovation performance. His colleagues have described him as a "pioneering leader who drives into chaos and clears the way for others to follow, grow, and thrive."
You don't have to spend much time with Trent to figure out he's a very sharp man, he brings some incredible gifts and thinking skills to the table. As impressive as those gifts are, that's not what's stood out to me most. What I've come to appreciate about Trent most is the level of his character as a follower of Jesus. I've known Trent for a couple of years and I observed very quickly that he had an incredible heart for ministry and for seeking the kingdom of God. He walks what he talks. He brings a wealth of cross-cultural ministry experience and a great understanding of the complexities of our present unfolding world. His experience in innovation and entrepreneurship will be a great gift to the larger church as we look to the future. Following Jesus is about both competence and character, and I've watched and observed the deep well of character that Trent has developed over the years as a disciple of Jesus.
Trent will be slowly ramping up his work with the CGGC. Because of his previous commitments with Indiana Institute of Technology, he'll be working in a very part-time capacity now through next spring. We're looking forward to having him come on board full time in late spring 2020.
I'd encourage you to reach out to Trent and welcome him at TrentG@cggc.org. We're excited to have him on board and look forward to the work we're going to do together as we seek to maximize our collective potential for kingdom impact.
Christ's Peace,
Lance
---
CGGC eNews—Vol. 13, No. 42